Missouri Casinos Eyeing Sports Betting Legislation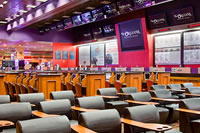 In a landmark ruling, the U.S. Supreme Court voted 7-2 that the Professional and Amateur Sports Protection Act (PASPA) was unconstitutional, clearing the path for states to legalize sports betting.
Missouri looks to follow states like New York, Pennsylvania, West Virginia and Mississippi that have already enacted sports gambling legislation in recent weeks. Lawmakers realize that residents of the state and all across the nation are already wagering with local bookies, friends, and offshore sites.
"It's been estimated that illegal sports betting takes place to the tune of nearly $3 billion dollars a year in Missouri," Sen. Denny Hoskins said.
"The time has come to stop pretending a problem doesn't exist, and bring this activity into the sunlight, create some oversight, while bringing in new revenue to the state as well as jobs and economic activity at our casinos. "
Many of the casino operators within the state have already expressed interest in adding sports betting to their portfolio. Industry experts estimate that sports wagering would add an additional $60 million to annual casino revenues in MO.
Jeff Morris, a representative from Penn National Gaming which operates Hollywood Casino in St. Louis and the Argosy Casino, is ready to see sports betting move forward in Missouri.
"As we have said during the legislative session, sports betting could be another amenity at Hollywood Casino St. Louis and help generate additional visitation to the property, as well as drive incremental tax revenue for Missouri," stated Morris. "We welcome the opportunity to continue the discussion of legal sports betting with legislators in Jefferson City and other key stakeholders."
St. Charles is another popular gambling destination, with the Ameristar Casino Resort Spa considered one of the best in the state. Troy Stremming, executive VP of government relations for the Pinnacle Entertainment operations group, commented that sports gambling would improve the overall gaming experience for patrons.
"You look at Ameristar St. Charles, and it's a perfect opportunity with what we have there in the Amerisports Bar and Grill," said Stremming. "It's a great opportunity to wager right there in the facility and have a great time while you watch a game or have dinner or cocktails with friends."
Though it seems that casino operators are on board with opening their doors to sports gambling, it is up to the state to make it happen.
During the 2018 legislative session, there were several sports betting bills put on the table that ultimately fell short. It looked as if MO 2406, was closed to getting passed, but time ran out to push the bill through. There was also another bill, MO HB 2535 , that included an integrity fee to be paid to the sports leagues.
With the Court striking down PASPA and the legislative session at a close, policymakers in the state can look forward to passing sports betting legislation during the 2019 session. Once sports gambling is legalized in Missouri, residents can expect casinos in the state to launch their sportsbooks relatively quickly.
Many of the operators in the state, such as those over Ameristar and Harrah's, already have sportsbooks in Las Vegas and can easily replicate the same infrastructure.
Back to Sports Betting in Missouri
Best Missouri Sports Betting Sites - 100% Trusted + Safe
| | | | | |
| --- | --- | --- | --- | --- |
| | | 50% Up To $250 | VISA + Wire Transfer | |
| | | 50% Up To $1,000 | VISA, Bitcoin, Cash Wire | |
| | | 50% New Member Bonus! | VISA, Bitcoin | |
| | | 100% Up To $300 | VISA, Bitcoin | |
| | | 50% Up To $1,000 | Bitcoin, Wire Xfer, VISA | |