Sports Betting Legalization May Be Off The Table In Missouri For 2018 With Three Bills Under Consideration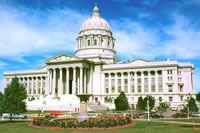 As of this writing, the Missouri House of Representatives is conducting the first hearing of three separate proposed sports betting bills and at least one of the bill sponsors does not have the highest hopes for legislation of the kind, at least not during this legislative session.
This preliminary hearing, which is only set about six weeks out from the closing day of Missouri's 2018 legislative session, brings the perceived difficulties in getting a law regulating sports betting passed this year. Representative Bart Korman (R-High Hill), the sponsor of the first bill up for discussion on the docket at today's hearing said that while there is plenty of good stuff to go around in all three bills, time may be the biggest opponent that any of them have to overcome. To wit, the Missouri Legislature is set to wrap things up for the year with a May 18 sine die, and that does not leave much time for the kind of back and forth hemming and hawing legislative bodies nationwide seem to be so fond of.
"It's going to be tough…to work out those details in a short time frame of about six weeks and get [a sports betting bill] to the governor's desk," Korman told reporters prior to going into the House Budget Committee's meeting. "There's less to argue about in my bill because it's basically just setting up the framework."
With that being said, the House Budget Committee has before it H 2320, sponsored by Korman, which is about as bare bones and open a take on sports betting legislation as possible in the current milieu. Korman's proposed bill would give daily fantasy sports operators set up in Missouri, along with the state's sponsored lottery as well as its thriving riverboat casino operators the right to obtain licensure to offer sports betting to customers. The defining feature of H2320 is its elasticity, in that it gives a lot of hand to the Missouri Gaming Commission to set the standards the state will have for its nascent sports betting marketplace should the practice of wagering on sports become legal nationwide.
Korman said this basic premise in offering such open ended language in his bill was to make it as easy – and non-controversial - as possible to pass a bill regulating sports betting, thus giving Missouri the head start it needs to be competitive states in the sports wagering industry with neighboring states. There is definitely some sound logic behind giving lawmakers less to quibble over, what with the combined might of the joint lobbying arm of the NBA and Major League Baseball bearing down on Missouri and 10 or so other states looking to break into the legal sports wagering industry. All of that, of course, is riding on the outcome of New Jersey's U.S. Supreme Court case against the constitutionality of the Professional and Amateur Sports Protection Act of 1992 (PASPA).
The case, properly referred to as Murphy v. NCAA (formerly bearing the name of New Jersey's last governor, Chris Christie), calls into question whether or not the now infamous federal law has been violating the States' Rights principles of the Equal Sovereignty Doctrine for 25-odd years. The Garden State's congressional delegation is alleging that PASPA, by prohibiting sports betting in 46 of 50 states (only Nevada, Oregon, Delaware and Montana were allowed to have legalized sports wagering and only Nevada really ran with it), is unconstitutional, and the not so crazy thing is NJ might win. In fact, it appears increasingly likely that the highest court in the land will actually declare PASPA null and void and strike it from the federal rolls, opening up the possibility that cash strapped states like Missouri can cash in on a heretofore mostly illegal American sports betting market worth somewhere between $150 billion and $250 billion annually.
As for the other two bills up for discussion on the afternoon of April 4, each one of the pair has some fairly obvious problems that could be a stumbling block in the way of a speedy compromise, much less quick turnaround on a direct passage. Rep. Justin Alferman (R-Hermann) is sponsoring H 2406, the second bill on the Budget Committee's docket, and this particular proposal calls for limiting sports betting to riverboat casinos, while also setting a 6.25 percent tax on the sportsbooks' revenues among other fees ($10,000 for the first time application for licensure and $5,000 in annual admin fees). H 2535, the third bill to be discussed by the Committee members, is sponsored by Rep. Dean Plocher (R-St. Louis), and could be the most problematic of them all. Plocher's bill calls for a 1 percent tax on all handle taken in by Missouri sportsbooks (that would be the much maligned "integrity fee" straight out of the NBA and MLB "blueprint") and also gives the leagues control over bettor data and information.
Those last few issues – especially the prospect of paying out the now infamous "integrity fees" requested (more like demanded as tribute) by the major pro sports leagues in exchange for the "use" of their games by the sports betting operators – will doubtless be one of the sticking points of statehouse discussion going forward. Giving power like that and free rein as far as access and use of data collected on Missouri bettors may be a step too far for most lawmakers in the Show Me State. There would certainly be plenty of precedent to reject both those demands: for one thing, states like West Virginia, Kansas, Connecticut and New York are either sharply curtailing or cutting outright any mention of an integrity fee, and Nevada – the longstanding global hub for all things wagering – has never had to pay an "integrity fee."
A 1 percent skim off the top of all handle brought in by the sportsbooks amounts to 20 percent of total gross revenues year over year, and the bookies will also find that amount stacked on top of whatever amount the various gaming regulatory bodies decide is appropriate for state taxes. There could be other fees too, as in Plocher's proposed bill, leading some critics of following the sports leagues' blueprint too closely to draw the conclusion that all the payouts could drive out completion and drive away paying customers. If the sportsbooks are liable for overhead like that, the reasoning goes, they will in all likelihood have to pass the costs along to their players, virtually ensuring lower payouts and more risks.
That, in turn, would mean driving valuable customers back into the arms of sports betting websites based overseas where federal and state laws don't apply in the first place. And where laws don't apply, taxes on revenues can't apply either, which means literally every party involved in the discussion – appropriately termed the "stakeholders" – will lose out except the leagues, which will still enjoy high (though flagging in recent years) viewership numbers. In fact, a recent Nielsen Poll report revealed that a sizeable 40 percent of regular viewers of sports broadcast wager on those sporting events in some form or fashion throughout any given season.
As for Korman, he is properly right on the money when he said that some states have sports wagering without having to pay a rent to the leagues. He's also probably right that, in addition to a bit of time crunch, Missouri could find itself having to take on the leagues' combined lobbying efforts the same way that Kansas and West Virginia did – the latter by passing a law all the way past the governor's desk with enough votes to override any veto attempt. While it is strange for the Show Me State's legislators (any of them) to take that approach, nobody knows exactly how everything will shake out, but – for our money - any discussion on the question of legalizing sports betting should begin and end with what's good for the people and businesses of Missouri. Korman, to his credit, seemed to agree.
"I don't want to put Missouri in a competitive disadvantage by having too many additional fees where someone will just go across the state line to bet," he said prior to the start of the Budget Committee hearing.
In today's climate, bettors don't even have to get in their car to place wagers on their favorite sports, teams and athletes. Thanks to the internet, and especially VPN or specialized encrypted browsers like TOR, it is almost impossible for governments to trace what users are doing at any given time if they take even the slightest effort to cover their tracks. If it is that easy to access foreign run sports betting sites that are 100 percent legal in their own countries and outside the reach of US law, what makes state legislators think that they can burden their own in-state sportsbook operators with onerous fees mandated by the pro sports leagues?
The NBA, MLB, NHL and NFL were the ones who pushed so hard for PASPA to get passed ("think of the children!" style) and we've seen how badly that turned out. Missouri lawmakers and representatives and senators at statehouses around the country should tread with caution when crafting their laws to legalize sports betting, and the Show Me State could be on the verge of making a big mistake. Fortunately, there are some good choices out there like the open ended approach as put forward by Korman, so here's hoping that some of his colleagues in the Missouri House are paying attention.
Back to Sports Betting in Missouri
Best Missouri Sports Betting Sites - 100% Trusted + Safe
| | | | | |
| --- | --- | --- | --- | --- |
| | | 50% Up To $250 | VISA + Wire Transfer | |
| | | 50% Up To $1,000 | VISA, Bitcoin, Cash Wire | |
| | | 50% New Member Bonus! | VISA, Bitcoin | |
| | | 100% Up To $300 | VISA, Bitcoin | |
| | | 50% Up To $1,000 | Bitcoin, Wire Xfer, VISA | |